Intervew with filmmaker Arnaud Khayadjanian, whose film "We are our mountains" this year won AAFCCJ prise in Golden Apricot International Film Festival
.


Since you've became famous to the Armenian audience with the movie that tells about your roots, let's talk about ARNAUD KHAYADJANIAN'S roots and how he appeared in Armenia?


My great grandparents, Anna and Vahagn, survived Armenian Genocide. Anna was from Aleppo and Vahagn was from Erzincan (eastern Anatolia). Anna was 15 years old, when she was rescued and hidden by a Turkish family. Vahagn was 17 years old when he was saved and cured by a Kurdish peasant In Damascus was born my grandfather Sarkis and in 1921 family moved to Vienne, France. There, they have worked hard in a factory. I feel that I owe to my Armenian ancestors. They have suffered a lot to ensure a good life to their children.That's why I try to pay tribute to them by making movies about my roots, about Armenia and Artsakh...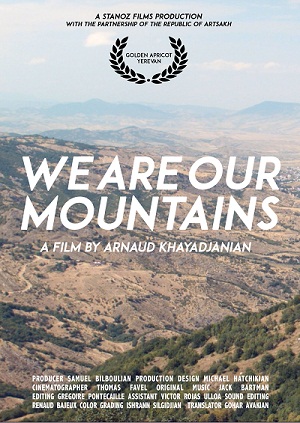 I've met you for the first time in 2014 at Golden Apricot Festival. Then I saw that you are regular participant at this film festival. It is interesting to know in which festivals have you taken part aside of Golden Apricot Festival?


I've participated in more than 70 festivals around the world. I especially like festivals abroad because that gives me the opportunity to travel and to meet new people and new cultures.


In your movies about Armenia, Artsakh, the topic is always genocide and Kharabakh conflict. Is it still interesting and relevant? This topic certainly affects us but is it interesting for foreign audience?


International audience shows a lot of interest in human stories, no matter of the country of origin of the film. For example, French people were very moved by my movie "We Are Our Mountains". Even if they don't know much about Artsakh they still have respect and empathy for these wonderful people.


It is an interesting time for documentary cinema. Now, when anyone can be a documentarian, where should filmmaker look for his hero and his film?


I think that documentary films are interesting because they show unknown places, characters and stories. It is a good way to restore dignity for people who face difficulties in their lives.


Recently, I've received an assignment from the University where I had had to think about the power of the film and about its connection with modern technologies. We seem to have more tools for having more influential movies. Does it bring us closer to the reality or get us away from it?


To be honest I'm not very curious about VR (Virtual Reality). The people and their stores are more important to me than the equipment or the modern technology.


You're going to make a new film in cooperation with Serj Avediqyan. What is it about? Would you like to share some details with us?


Mikayel Dovlatyan, Serge Avedikian and Martin Salmon will produce my future film project. The movie talks about the destinies of eight characters that are looking for peace, love and freedom. By combining these interlocking stories I want to show the diversity and complexity of Artsakh. These universal intrigues will be united by a common theme and geographical location: how to live and dream in an unrecognized country? Through this film inspired by true stories, I want to give to this "ghost country" the recognition it deserves. I want to introduce this faceless and voiceless people to an international audience. Beyond the political conflict, I'm deeply interested in the struggles and hopes of these anonymous people.


In one of your Interviews you have said that you would like to shoot a movie about the Velvet revolution in Armenia. How do you imagine it?


Before I write the script for a movie about Velvet revolution, I want to take time to really understand these amazing events. I've spoken a lot with my Armenian friends to understand their feelings about it. I also want to observe the consequences of this revolution during the following months. Then, I will think about a story that will be based on this event. I think it could be a good opportunity to show how did the youth of Armenia take a part in this peaceful fight.


You had also said that many of your friends are returning to Armenia and it inspires you. Would you like to live in Armenia, especially that you often film there?


At the moment, I have two projects in France so that I have to be sometimes there. Anyway, I would like to live in Armenia for a few months in 2019. And to experience the "real" every day life there. Armenia is a very inspiring country for my work and me.


Is there something you would like to talk about but I did not ask you?


What are my favourite places in Yerevan? Cascade and Aram Street.


Intervew by Astghik Hakobyan
See the Armenian version
here
.