The Ten-Day-Navigation Is Announced To Have Started
«Literary Ark 2014» Festival was launched in the special-event-hall of Gafeschyan Art Centre. The «Literary Ark» international festival is a stage for writers' communication, literary discussions and formation of cooperative frames. The festival is being held for the fifth time. This year, in the frameworks of «Literary Ark», modern poets and novelists have arrived in Armenia, British writer Meg Rosoff among them. In the future two or three days world-famous Polish writer Yanush Vishnevsky will also be in Armenia.
The idea of the foundation of the festival was formulated 14 years ago in 2000. The founders are Davit Mouradyan (a writer and a film critic), Davit Matevosyan (a producer) and Hasmik Poghosyan (the present-day minister of the Ministry of Culture of the Republic of Armenia). During the official opening ceremony Ministry of Culture of the Republic of Armenia endowed film critic Davit Mouradyan with a «Grigor Narekatsi» (Gregory of Narek) medal for his contribution to the festival. Recollectig the foundation of the festival, Davit Mouradyan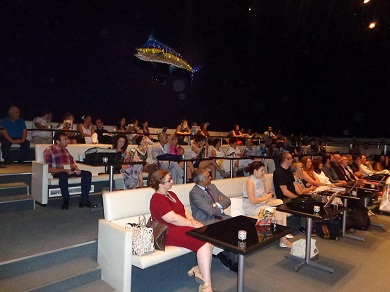 said: «We were aware of the fact that Armenia, being an old country, was entering a new era, we realized that those times were as much attractive as they were full of dangers, and they haven't ceased to be like that yet. We were eager to see the literatures, the writers and the culters meet here in Armenia, for as much the times are unstable as much we need baseline values».
According to the co-founder «Literary Ark» is a fine example of consolidation of different cultures, languages and nations: «The most interesting thing is that we are all different: nations are different, languages are different and countries are also different, but people are the same. Differences make us interesting to each other, and being a human makes us understand each other».
The solemn part of the «Literary Ark» was followed by a concert. Jora Sargsyan (a pianist) and «Mikayel Voskanyan and Friends» Ethno-Jazz band greeted the festival guests with their performances.
Anna Karapetyan
Translated by Nvard Sahakyan